Tuesday, October 19, 2010
tea for toomey
granted, the public policy polling firm is affiliated w/the great orange satan, and by extension, professional lefties, but their latest poll in pennsylvania shows sleestak climbing to
within the margin of error
against pat toomey:
you can put pennsylvania senate back in the toss up category. joe sleestak leads pat toomey 46-45 in our newest poll of the race, erasing the 9 point deficit he had in an august ppp survey.

toomey's support has remained stagnant over the last 2 months while sleestak's has gone up 10 points from 36% to 46%.
suddenly the race is competitive. ppp offers some reasons, but most telling to us, is the hemorrhaging of support for toomey amongst women, once toomey's affiliation w/palin (ie, they're both nutjobs) was made clear.
there's joy in sleestak's camp today!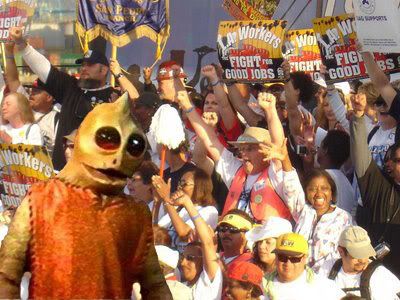 sleestak and supporters
posted by skippy at
9:41 AM
|
---
0 Comments:
It's Skippy the Bush Kangaroo!
blogtopia remembers jon swift