Thursday, October 28, 2010
forward into the past
let's set the waybak machine for the 1980's to revisit one of our favorite sci-fi movie trilogies.
no, we're not talking about star trek ii, iii and iv (
the wrath of kahn
,
the search for spock
, and
the voyage home
, respectively), three really great films which involve a contiguous time line for three different, yet compelling, adventures.
we are instead thinking about the great back to the future franchise. the
25th anniversary of bttf
is this year, and universal has released a special
blu-ray disc box set
of the movies to celebrate.
of course, several cable channels are re-running all three films to acknowledge the watershed mark of this ingenious story. and you can't peruse any sci-fi blogs without running across an essay about marty, doc, biff and jennifer jason leigh.
one of the most amusing, however, is found on
gawker
, where kristina lucarelli muses about 14 things that back to the future part 2 got right about living in the 21st century (and 5 that haven't).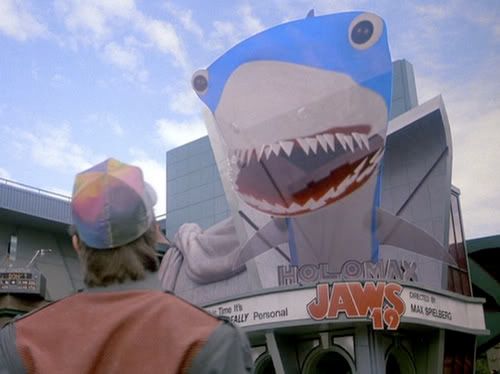 kristina
points out
that when marty mcfly travels from 1985 to see his future self in 2015, steven spielberg and bob zemeckis correctly predicted such culture and scientific phenomenae as flat screen tvs, handheld electronic computer devices, obsession w/3d sequels, video conferencing and
self-lacing sneakers
. she also mentions that real flying cars and real hoverboards are actually in the works as you read this.
one of our favorite future faux-pas, however, is also mentioned: everybody faxes everything all the time. as soon as the 1990's rolled around w/the internet, we found this prediction of bttf ii to be quaint. also, unfortunately, the prospect of queen diana of england was sadly never realized, but who could blame zemeckis for getting that one wrong?
but hey, it's still a rousing great film, and the trilogy is one of the funniest every made. skippy had the pleasure of seeing all three back-to-back-to-back at the los angeles premiere of bttf iii at the (now defunct)
cinerama dome
.
posted by skippy at
10:07 AM
|
---
0 Comments:
It's Skippy the Bush Kangaroo!
blogtopia remembers jon swift