Saturday, July 26, 2008
the scary black man is even scarier than we thought
an email we received: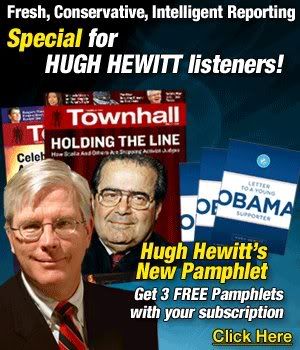 dear friend,
two weeks ago hugh hewitt sent you an email regarding his letter to a young obama supporter. thousands of you responded and requested this important pamphlet that puts the facts into the hands of people that are being fooled by all the obama hype.
gee, we didn't open that one. and we usually read
all the stuff hugh sends us
.
many of you have said that one copy simply isn't enough, more are needed to give out to friends and family. because of this overwhelming response we are now making three copies of letter to a young obama supporter available to you with your subscription to townhall magazine.
what a great idea! because we wouldn't want to go to the trouble of copying the pamphlet w/a copy machine when we could easily shell out some $$$ for a subscription to hardly-ever-right-wing paranoid drivel!
order townhall magazine now and get three copies of letter to a young obama supporter now! a $77 value for only $34.95!

your first issue of townhall magazine will include an in-depth report revealing the secrets of barack obama's chicago political machine. hugh's letter outlines the risks associated with putting barack obama in charge of the war on terror and the american economy. townhall magazine exposes obama's calculations and associations with corruption that have not been reported in the main-stream media.
that's great, because we haven't seen anything about
obama's corruption in the news
!
one of the greatest threats of an obama presidency is his opportunity to appoint judges.
and that he'll sleep with your sister.
in this special edition, you will learn just what judicial activism is and how leaders like justice scalia are holding the line against liberal judges.
like clarence thomas.
senator fred thompson's exclusive "closing argument" breaks down the consequences of activist judges and the dangers of judges that legislate from the bench.
and senator fred thompson knows all about the law, because he used to be the d.a. for new york, and he
fired all the lesbians
!
you will learn what left-wing radicals are planning to disrupt the democratic convention and hear from newt gingrich on the need to drill for oil here at home.
yes, because left-wingers hate the democrats! and newt gingrich loves oil!
subscribe today and we'll also send you three copies of letter to a young obama supporter now! a $77 value for only $34.95!
why, it's a deal at twice the price! where do we sign?
posted by skippy at
9:38 AM
|
---
6 Comments: