Monday, December 31, 2007
forever blowing (housing) bubbles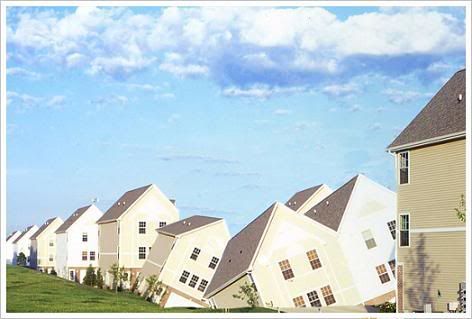 sub-prime meltdown keeps creeping upward. mortgage defaults are at a record high, according to
bloomberg
:
defaults on privately insured u.s. mortgages rose 35 percent in november to a record, an industry report today showed, adding to evidence the u.s. housing slump is deepening.

the number of insured borrowers falling more than 60 days late on payments jumped to 61,033 last month from 45,325 in november 2006, according to data from members of the washington- based mortgage insurance companies of america. the missed payments, often a prelude to foreclosure, represented a 2.9 percent increase from october.
worse, housing starts are at their lowest in over 15 years.
landscape management
(as goes landscape management, so goes the nation):
single-family housing starts declined 5.4% in november to a seasonally adjusted annual rate of 829,000 units, the lowest level since april of 1991. meanwhile, permit issuance for new single-family homes declined 5.6% in the month to 764,000 units, their lowest level since june of 1991, reported the
national association of home builders
on dec. 18...
nationwide housing starts declined 3.7% to a seasonally adjusted annual rate of 1.19 million units in november as home builders continued to put the brakes on new-home production, according to newly released data from the u.s. commerce department.
worser, the sub-prime mess is creeping into the economy in the guise of lay-offs.
sf biz times
:
the nation's mortgage woes took their toll monday [dec. 10] at
washington mutual
, which is closing offices, laying off workers and cutting its dividend as it copes with larger-than-expected fourth-quarter losses...
the company said it plans to set aside $1.5 billion to $1.6 billion for loan losses in the fourth quarter. and the worst is far from over -- the company anticipates higher loan-loss provisions through the end of 2008.
the company also said it will discontinue subprime lending. as part of that move, wamu will close 190 of its 336 home loan centers and sales office and will shave 22 percent of its mortgage staff, or about 2,600 jobs. the company (nyse: wm) will cut 550 corporate and support positions as well.
worsest...it's effecting the whole economy.
asspress
:
the housing and mortgage meltdowns have raised the odds that the country will fall into a recession. and, the situation has given democrats and republicans_ including those who want to be the next president — plenty of opportunities to spread blame around.

the economy's growth is expected to have slowed sharply to a pace of just 1.5 percent or less in the final three months of this year. the big worry is that housing and credit troubles will force individuals to cut back on spending and businesses to cut back on hiring and capital investment, throwing the economy into a tailspin.

to help bolster the economy, the federal reserve has sliced a key interest rate three times this year. many economists are predicting the fed will lower rates again when it meets in late january. yun said he preferred to see the fed make one big rate reduction at that time, rather than make a series of modest, quarter-point cuts.

on friday, the government reported that new-home sales plunged by 9 percent in november to a pace of 647,000, the lowest in more than 12 years.
happy new year!
Labels: economy, housing bubble, recession
posted by skippy at
4:44 PM
|
---
0 Comments: