Tuesday, November 20, 2007
write turn
there was a massive show of support for the writers guild strike in hollywood today. skippy headed down to offer his assistance.
when he got there, he estimated the crowd to be about 5,000 storng, altho a couple of friends of his thought there were anywhere from 7500 to 10,000.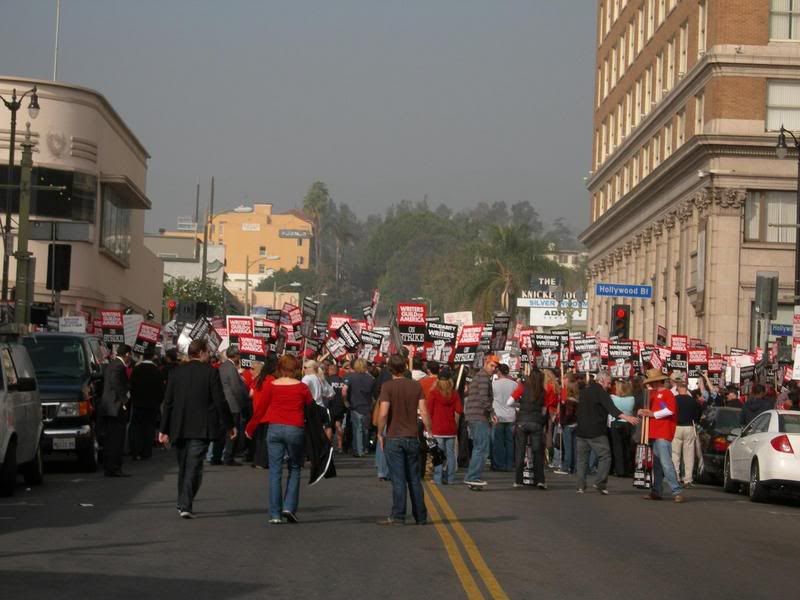 the crowd, which gathered at hollywood blvd. & ivar street, was comprised of all kinds of people, all races, ages and backgrounds. of course it was mostly striking writers, but there were plenty of screen actors, directors, professional musicians, casting directors and below the line workers. also showing up to offer support were several teamsters, members of the seiu, and the california nurses association.
skippy recognized
anne marie johnson
of
in the heat of the night
, with whom he walked the picket lines for the commercial actors strike in 2000, and
kevin kilner
, with whom he has spent time waiting in green rooms for auditions, among the famous faces supporting the writers.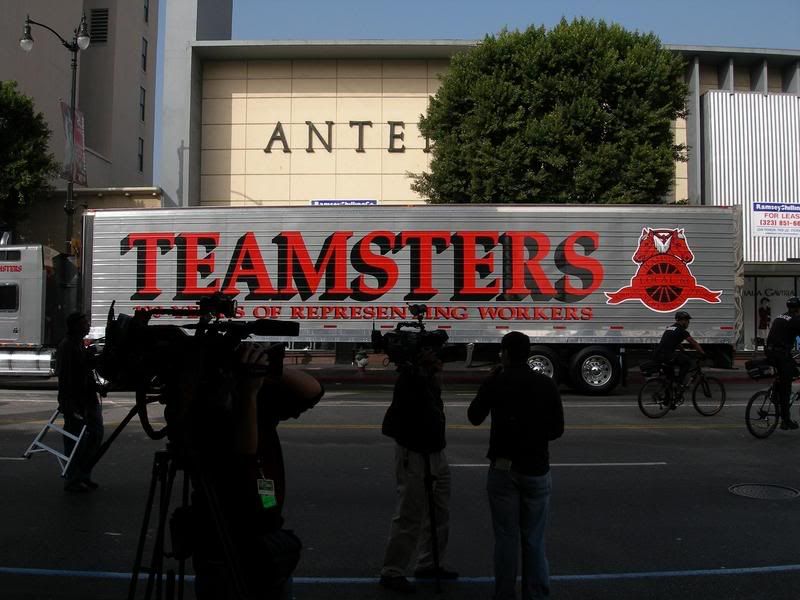 the marchers headed down hollywood blvd, which had been closed off by the police for this labor action. people were chanting, dancing, drumming all the while as they marched along the boulevard. children and dogs as well as union workers traveled slowly down the blocks of hollywood's most famous street.
the renown movie characters of hollywood blvd. joined in as well. spiderman, capt. jack sparrow and marilyn monroe marched along with the writers in support.
unfortunately for us, mrs. skippy's camera, which skippy was using, ran out of battery power at the beginning of the march, so we have no more pictures to show you.
update
: according to
kcbs
, skippy's estimate of the number of people there came the closest:
about 4,000 people stretching three city blocks marched down hollywood boulevard, accompanied at one point by a small brass ensemble from the musician's union playing the theme song from "rocky."

r&b singer alicia keys entertained the crowd from the back of a pickup truck with a song from her new album.
[ed. note: skippy got there late, and unfortunately missed that part.]
when the crowd reached historic grauman's chinese theatre, john bowman, chief negotiator for the writers guild of america, rallied the troops and urged a swift conclusion to the standoff that began when writers walked off the job nov. 5.

"you have an enormous strategic advantage online -- us, your writers," bowman said in remarks aimed at studio chiefs and producers. the two sides have clashed over paying writers for reruns of their work online and for original work written for the internet.

"we are your partners, and together, we'll conquer the internet. pay us and we'll shut up and go back to work.

"let's get this done by christmas," he concluded.
bowman's mouth to god's ears, as they say.
so skippy came closest to the actual number without going over. if life were like
the price is right
, skippy would have won. on the other hand, if life were like
the price is right
, drew carey would replace us all.
john bowman's speech (not today, but last week at the 20th century picket line, which skippy also attended):
no, it's not
bowser
, it's another john bowman. but if you want celebrities in your union news, how about sally field at the picket line at disney?
nice quip by the fox reporter at 2:15, calling back sally's censored emmy acceptance speech.
more celebs? how about jay leno and julia louis-dreyfus at the universal picket line?
next time, skippy promises to bring a charged battery so he can take more pics!
double update
: it looks like the networks are going to get squeezed from all sides. the news writers for cbs have voted to go onstrike.
hollywood reporter
:
after working without a contract for more than two years, cbs news employees represented by the wga east have approved a strike through an authorization vote.

eighty-one% of the 75%-80% of the union's rank and file who turned out in a special election thursday and friday voted to authorize the strike. that, however, doesn't mean a strike is imminent. it first would have to be approved by the negotiating committee and upper echelon of the wga.

the wga already is in a three-week-old strike with many of its members in a separate union for tv and film writers, which has resulted in picket lines in new york and on the west coast. the cbs news union's negotiating committee is scheduling a meeting after thanksgiving to assess the situation, wgae president michael winship said..

winship said the ongoing writers strike doesn't preclude the wgae from calling another strike with the cbs news employees.

"we are looking at all the options," he said.
if this were a conservative blog, we'd make some crack about how the cbs news execs were going to have to make the news up themselves now.
but it's not so we won't.
Labels: entertainment, hollywood, labor, union, writers strike
posted by skippy at
5:06 PM
|
---
5 Comments: