Thursday, May 24, 2007
escrow where ya wanna go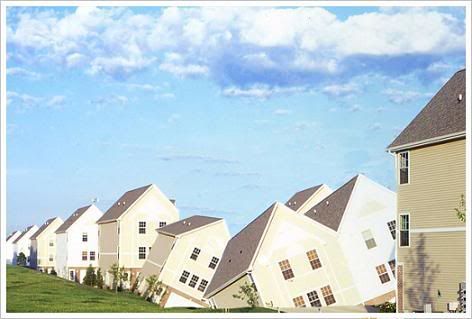 our good friend
monkeyfister
is quite aware of the skippy's adventures in trying to buy housing in the los angeles real estate market. monkeyfister himself
has just closed
on his own american dream down in tennessee, and for that, we congratulate him.
we are also, therefore, touched that he would give the skippys' search for affordable housing a shout out over at
blah3
, where monkeyfister gave us all the bad news: and that is, the nightly news isn't giving us the real news, which is, the bad news is much worse than we thought.
in this article
, [economist barry ritholtz takes a look at a report by real estate analyst
john burns
, and concurs-- the real estate market is falling out faster than the media is reporting.
here are some highlights to get you started:
• closing data: sales have actually fallen 22% year-over-year, based on comparing trailing 12 month periods. if you compare year over year sales, the decline is even more severe.

• mortgage bankers association [mba] data: mba seasonally adjusted purchase application index is down 18% from its peak in september 2005.

• builder data: d.r. horton (dhi) and lennar (len) have reported that orders have declined 27% to 37%, year-over-year -- even as they have dropped prices significantly. these are the nation's two largest homebuilders.

• realogy corporation data: in 2006, there was a year-over-year decline of 18% in brokerage related transactions at realogy owned firms (century 21, coldwell banker, and era)

• 2005-2006 national association of realtors state data: the nar is showing some very sharp year-over-year corrections: florida down 28%; california down 24%; arizona off 28%. however, the nar data may actually be understating the falloff. john's data shows the more likely actual sales decrease to be closer to 34%, 27% and 38%, respectively. prior to 2005, john's data tracked very closely with the nar, so this deviation is worth further investigation.
mrs. skippy hasn't given up checking the internet everyday for new listings. but the skippy's have noticed that several listings that were on the market last year are still available now, only at lower prices.
unfortunately, not low enough for the skippy's! but we still wish the monkeyfisters a sincere housewarming in their new digs!
Labels: blogtopia, economy, housing bubble
posted by skippy at
12:01 AM
|
---
6 Comments:
It's Skippy the Bush Kangaroo!
blogtopia remembers jon swift