Friday, January 12, 2007
libby went a courtin' he did go uh huh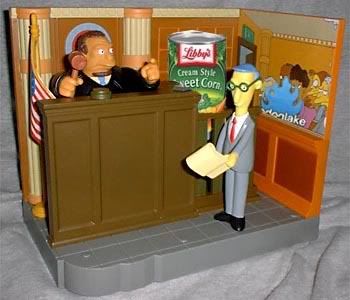 who do you have to
fu[don't go there...ed]
kiss up to in order to get a seat in the actual courtroom of the libby trial? we don't know, but apparently jane hamsher of
firedoglake
does, because she's got a ticket to write, and she don't care:
thanks to help from lots of folks at the huffington post, daily kos, the united states district court for the district of columbia and a whole bunch of people who
contributed to our fundraising efforts
(especially the extra-generous steelthing, to whom much thanks goes out from all of us), we're going to dc to cover the libby trial.
it's something of a first for bloggers to be credentialed for a high profile trial like this. in addition to the
two passes granted
to the
media bloggers association
to distribute through its members, justin rood (of tpm), marcy wheeler (of next hurrah/dkos) and myself (on behalf of huffington post and fdl) have been granted passes. most of the passes are for the overflow room where the trial will be broadcast by closed circuit and wifi will be available for live blogging; my pass (which i'll be sharing with christy and others) will be for courtroom 16 itself. to say i am excited to see patrick fitzgerald sweating dick cheney on the witness stand would be something of an understatement.
pachacutec will be on hand for jury selection, one of only a handful of journalists (and the only blogger) allowed in to the proceeding via judge walton's ruling that only two journalists be allowed in the courtroom at a time.
good job, and good luck, jane, christy, parachutec and everyone. we want to know, will trex get to share the green room w/cheney? be sure to duck!
posted by skippy at
5:35 PM
|
---
7 Comments:
It's Skippy the Bush Kangaroo!
blogtopia remembers jon swift