Wednesday, January 03, 2007
help send michelle to camp
little michelle has never experienced a war first hand. yet it's almost all she can talk about. ever since being a stringer in seattle, she has yearned to witness the glory of men and women blowing each other to pieces in the name of some vague concept held by their leaders back home. but she's never gotten closer than a cat fight with andrew sullivan.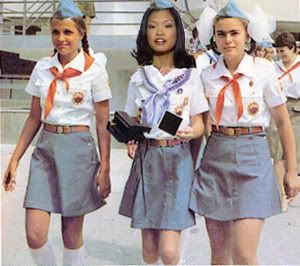 but now you can help. please donate anything you can to the send
michelle and curt from flopping aces to baghdad fund
. checks can be sent to hot air network llc, 554 n. frederick ave., #115, gaithersburg, md 20877. credit cards and paypal can be used
here
, at the bottom of the page.
posted by skippy at
10:08 AM
|
---
16 Comments:
It's Skippy the Bush Kangaroo!
blogtopia remembers jon swift