Friday, December 22, 2006
top story of the year: housing sucks!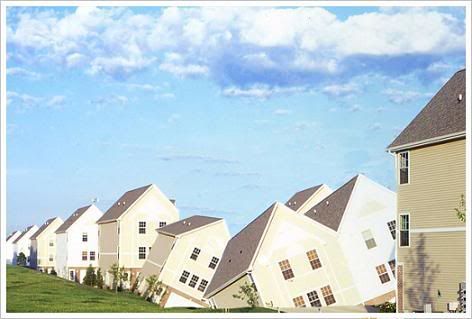 the
asspress biz section
sez the biggest story in business this year was the declining housing market:
the nation's house party ended with a thud in 2006, leaving everyone from condo flippers to federal reserve chairman ben bernanke waiting to see what would happen next.

the sudden stall in home sales, home construction and home prices -- and what that will mean for the economy -- was voted the top business story of the year by u.s. newspaper and broadcast editors surveyed by the associated press.

at the housing market's peak, buyers rushed to open houses, blank checks in hand. lenders gave big-money mortgages to people who could barely afford their monthly payments. that ended in 2006, when home builders scuttled projects, walked away from land they'd hoped to develop and would-be buyers canceled orders.

the story bumped high energy prices from the top of the list, where it had been for the past two years. many of the year's other top business stories were the latest installments of years'-long sagas, such as u.s. auto makers' woes and the unraveling of enron corp.

some of the new faces on the list, including hewlett packard co.'s former chairwoman, patricia dunn, and separately, the growing group of executives who manipulated their stock options, might wish they were elsewhere -- even at a lonely open house.
other notable business stories this year: enron sucks, executives backdating stock orders sucks, the automobile market sucks, oil prices suck, gas prices suck, and the dow jones hits a record.
not that there's any cause and effect.
(thanks and a tip of the hat to
cookie jill
for the story!
posted by skippy at
2:14 PM
|
---
2 Comments:
It's Skippy the Bush Kangaroo!
blogtopia remembers jon swift